F.A.Q.s
About The Store
Where are you located?
933 Massachusetts St. Lawrence, KS 66044
What is your phone number?
785-550-0926
Can I bring my pet into the store? 
All pets are welcome! We have had many animal visitors in the store including cats, dogs, snakes, ferrets, pigs, birds and hedgehogs! Free treats at the front desk!  
Do you have a backdoor? 
Yes, we have a public backdoor. Additionally, there is a 2 hour free parking lot behind our store off of Vermont St. 
When is your shop cat Pretzel at the store? 
Pretzel is usually at the shop during the week days managing our bakery, however, he is not always available to meet. If you would like to meet Pretzel, ask a staff member and we will see if he is available. Pretzel is tolerant of dogs but does not interact with them. He is vaccinated and neutered. 
When is your shop dog Sirius at the store? 
Sirius is a come as he pleases dog. He is typically in the store on weekday afternoons and Sundays. If you would like to meet Sirius, ask a staff member and we will see if he is available. Sirius is extremely tolerant of dogs of all ages, people of all ages, and ALL pets - he has met hedgehogs, hamsters and one time, even a snake! He is vaccinated and neutered. 
Do you do food consultations?
Yes! You can come in anytime and consultations are free. Usually consultations last anywhere from 5min-15min. If you have in depth questions, we recommend coming in during the week as weekends can be very busy and our employees may not be available.
Do you make custom pet cakes, like for my pet's birthday?
We do! Check out our bakery items here.
About local (same day) delivery
What is the cutoff time for same day delivery?
The cutoff time for same day delivery is 1pm during weekdays. All orders placed before 1pm on weekdays will be delivered the same day. All orders made after 1pm will be delivered the next day. We do not deliver on Saturdays or Sundays. All local delivery orders made on Saturdays and Sundays will be delivered Monday. 
What time will my order arrive?
Deliveries take place anywhere from 3pm-7pm. For more accurate delivery times, you may call our store at (785)550-0926
About Our Website
Can I leave special instructions about my delivery? 
When you check out, you can add special instructions about your delivery. Below is a picture of the text box you can use to do this.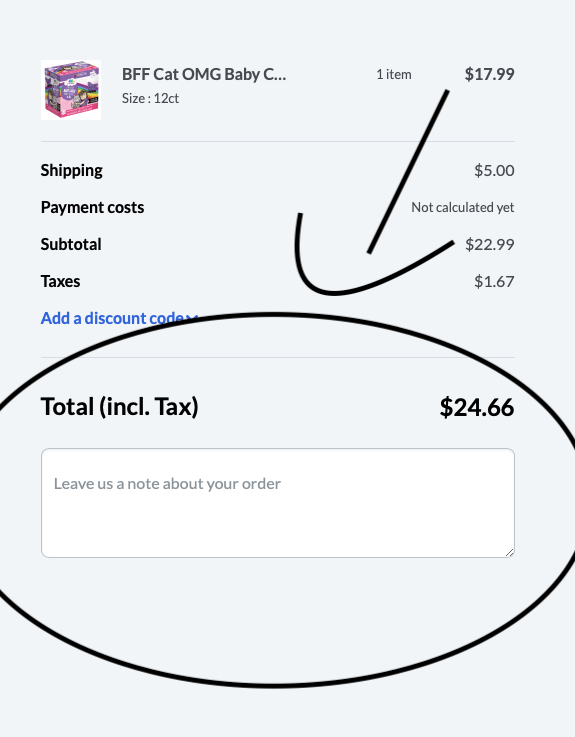 What if I have a questions about my order?
You may call us at (785)550-0926 We're ready to help! 
About Shipping Outside of Lawrence
Where do you ship to?
We ship to anywhere in the continental United States. 
Do you ship pet food? 
We ship some freeze-dried food but do not ship kibble or raw foods.
What is your shipping return policy?
Visit our shipping & return page for more information.