About us
Pet Supplies, All-natural pet food and Bakery! We are located on Massachusetts St. in beautiful downtown Lawrence, Kansas. Named one of America's Coolest Pet Stores by Pets+ Magazine! We have the most knowledgeable staff in Lawrence and specialize in solutions. See us for cute bakery treats, custom pet cakes, high-quality pet food, durable toys, educational toys and puzzles, training leashes and harnesses and all dog and cat supplies. Come visit us on Massachusetts St. in beautiful downtown Lawrence, KS or online!
Lucky Dog Pet Grocery & Bakery
933 Mass St Lawrence, Kansas 66044
(785)550-0926
Meet our staff!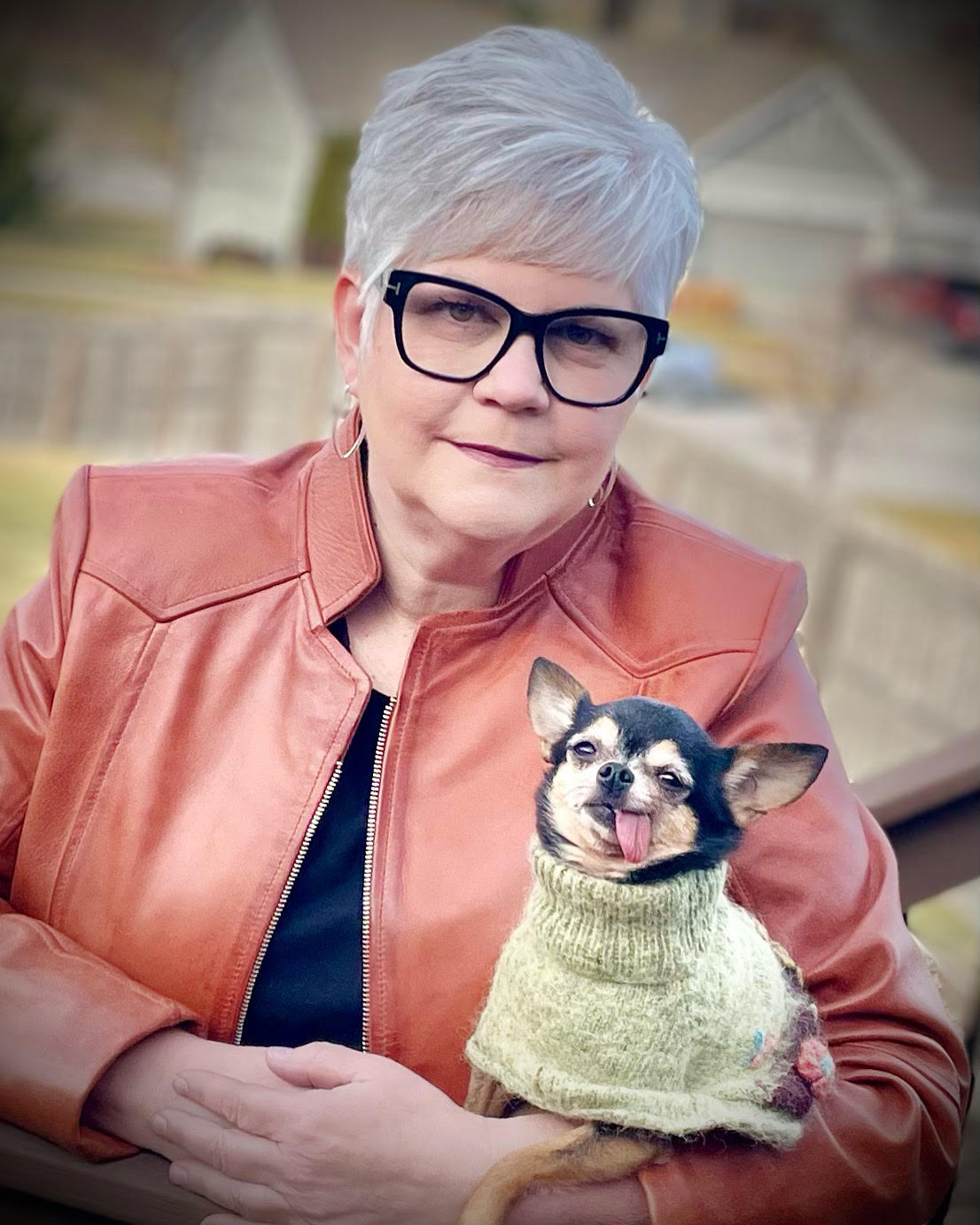 Co-Owner Jennifer:

After adopting a Boston Terrier mix in 2011, Jennifer enrolled in a pet training class and was inspired to open her own pet business. A year later she left her teaching career to launch Lucky Dog with her daughter, Sarah. Lucky Dog was opened with a very small start up investment and thrifted fixtures. Jennifer has more pets then she will admit to publicly, but we do know that her dog Salvador was the inspiration for the business name and logo. When not working, Jennifer enjoys music, reading about pet health and nutrition and playing with her pets!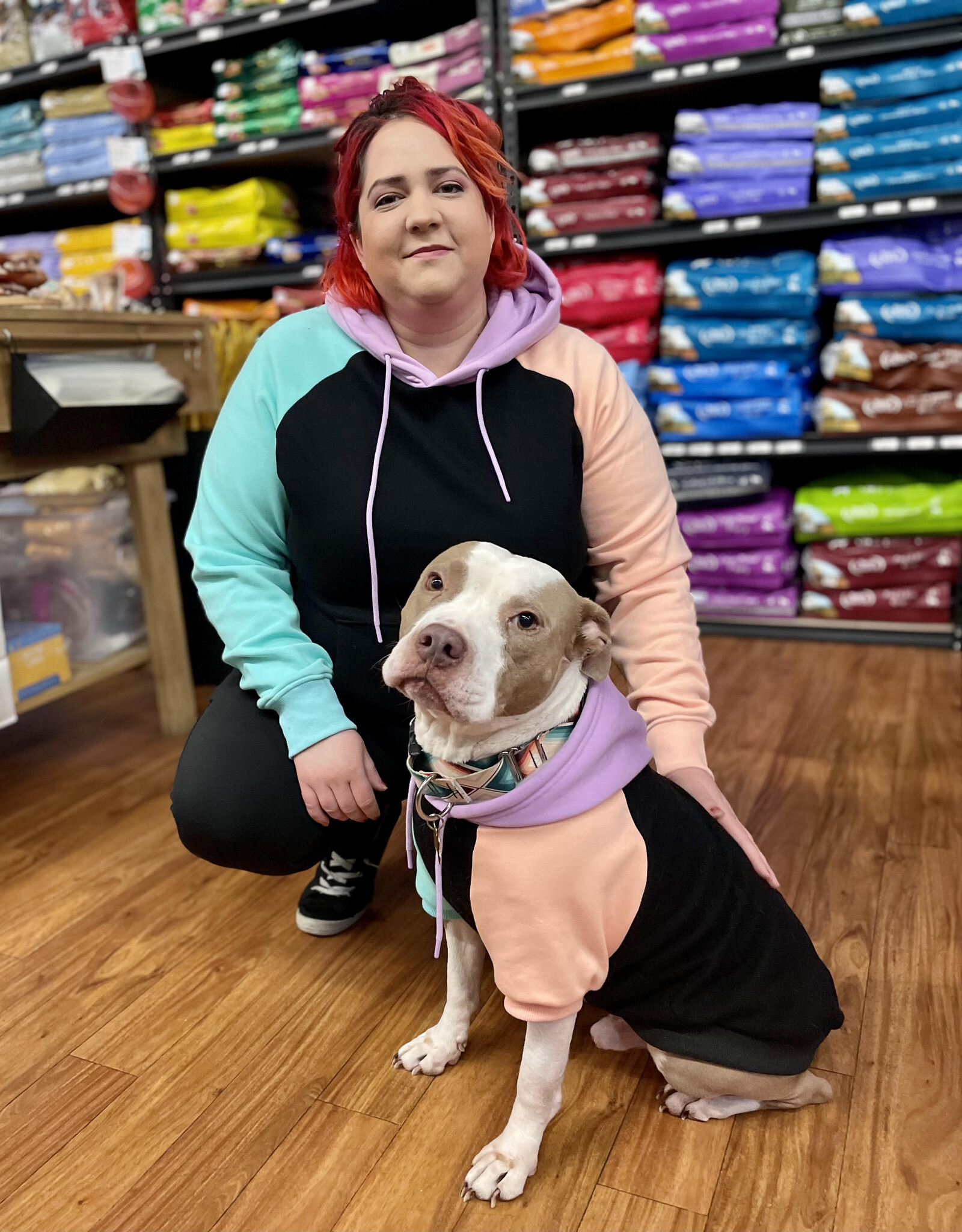 Co-Owner Sarah & Shop dog Sirius:

Sarah Ybarra is the co-owner of Lucky Dog Pet Grocery and Bakery. She opened the business with her mother in 2012. Her favorite type of dogs are chihuahuas and pitbulls. Her favorite aspect of owning the business is enriching and helping the lives of other people's pets. 
Sirius is Lucky Dog's shop dog! He comes to work with his momma, Sarah the co-owner. He was adopted from Prairie Paws Animal Shelter. Sirius is an ambassador for pitbulls and encourages others to adopt! He is a certified Canine Good Citizen through the American Kennel Club.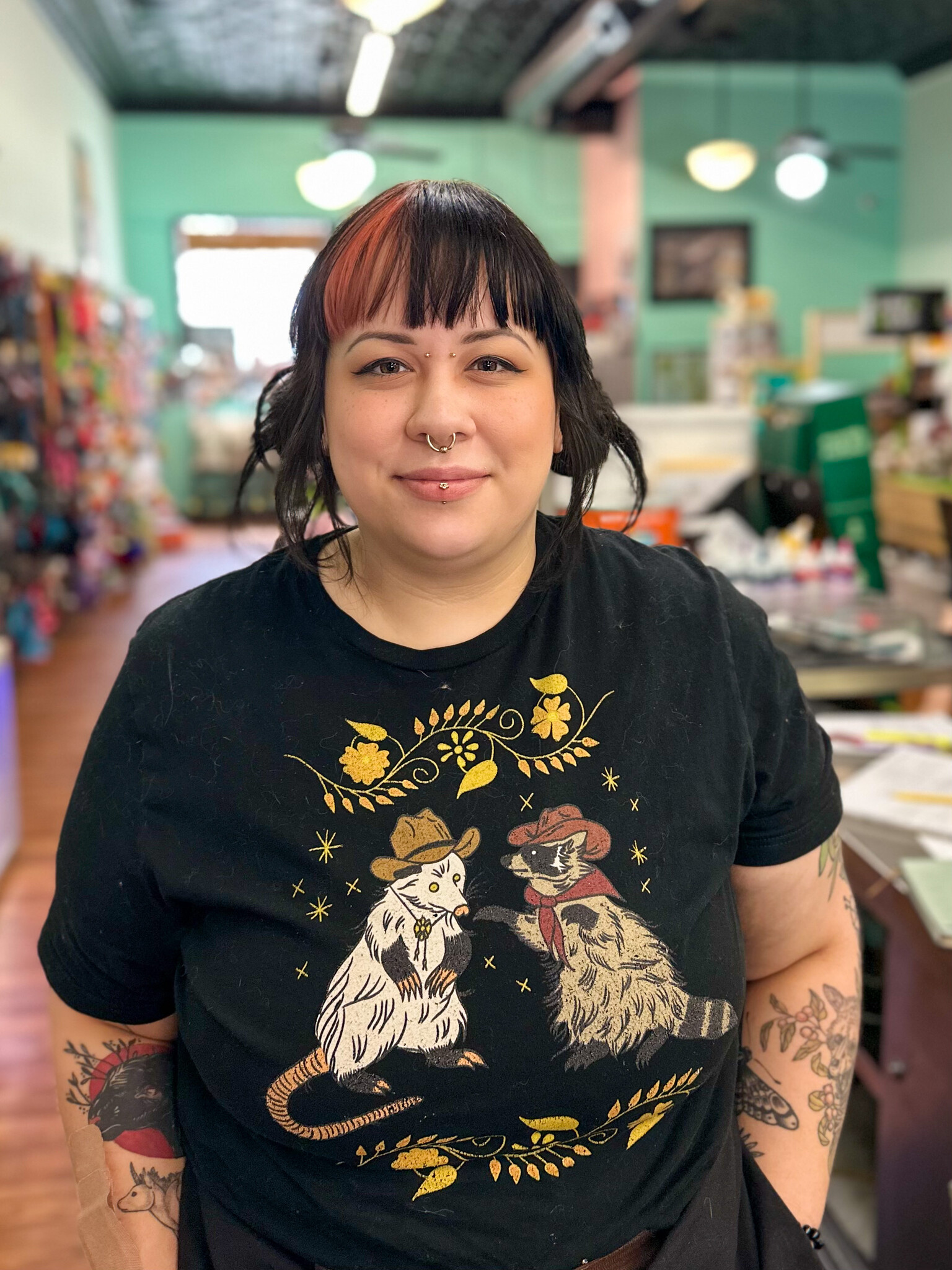 Kayla:
My name is Kayla-Jade, also known as Pretzel's mom. I've worked at Lucky Dog since 2017 when I was finishing my bachelor's degree in Visual Art. Since then I've become the Bakery Manager, so I'm the one who designs all of the treats your pets love to eat. Working here has allowed me to have a creative outlet while also helping animals in the community. Not only do I design cookies I have a knowledgeable background in pet nutrition, specifically felines. I currently have four cats and two dogs. I have a Border Collie/Mini Australian Shepherd Mix named Huxley and a Shiba Inu named Clover. My cats' names are Peri, Pretzel, Marcel and Squid.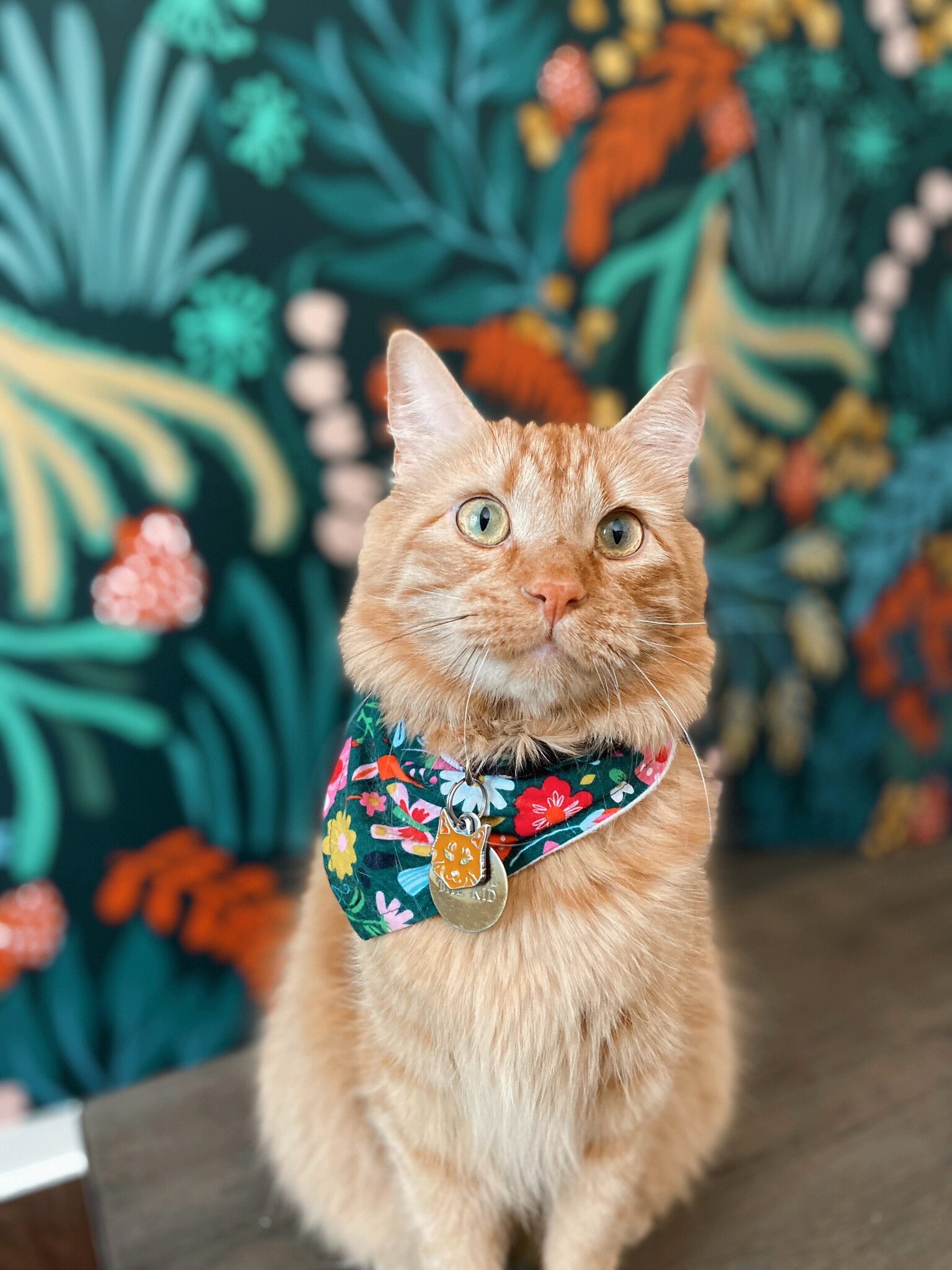 Shop Cat Pretzel:
My name is Cheddar Pretzel the Kid, but you can just call me Pretzel. I started working here when I was only five weeks old! My favorite thing to do back then was to sleep on the sales counter and steal toys any chance I could get. Nowadays, I boss the bakers around, sleep in the cabinet, step on wet cookies while my coworkers are decorating, and play with my favorite toy, Mr. Piggy.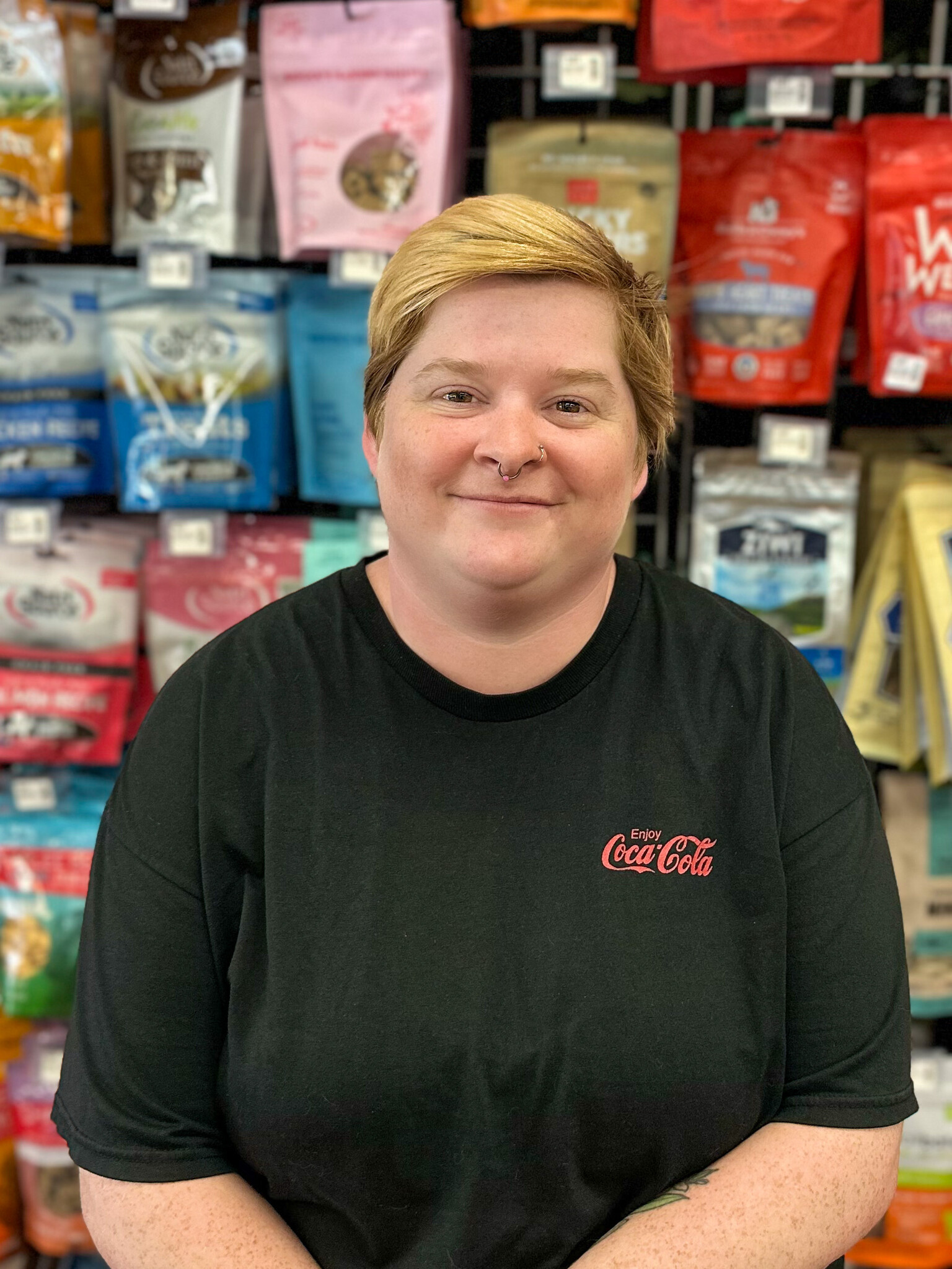 Katie:
I started working at Lucky Dog in November of 2020. Throughout my time working here I have learned so much not only about the pet industry but also about myself and my own pets. I am always striving to learn more about the new and upcoming things happening in the pet world, and I love to share my findings with all our friends here in Lawrence. When I am not at work you will probably find me playing fetch with my dogs!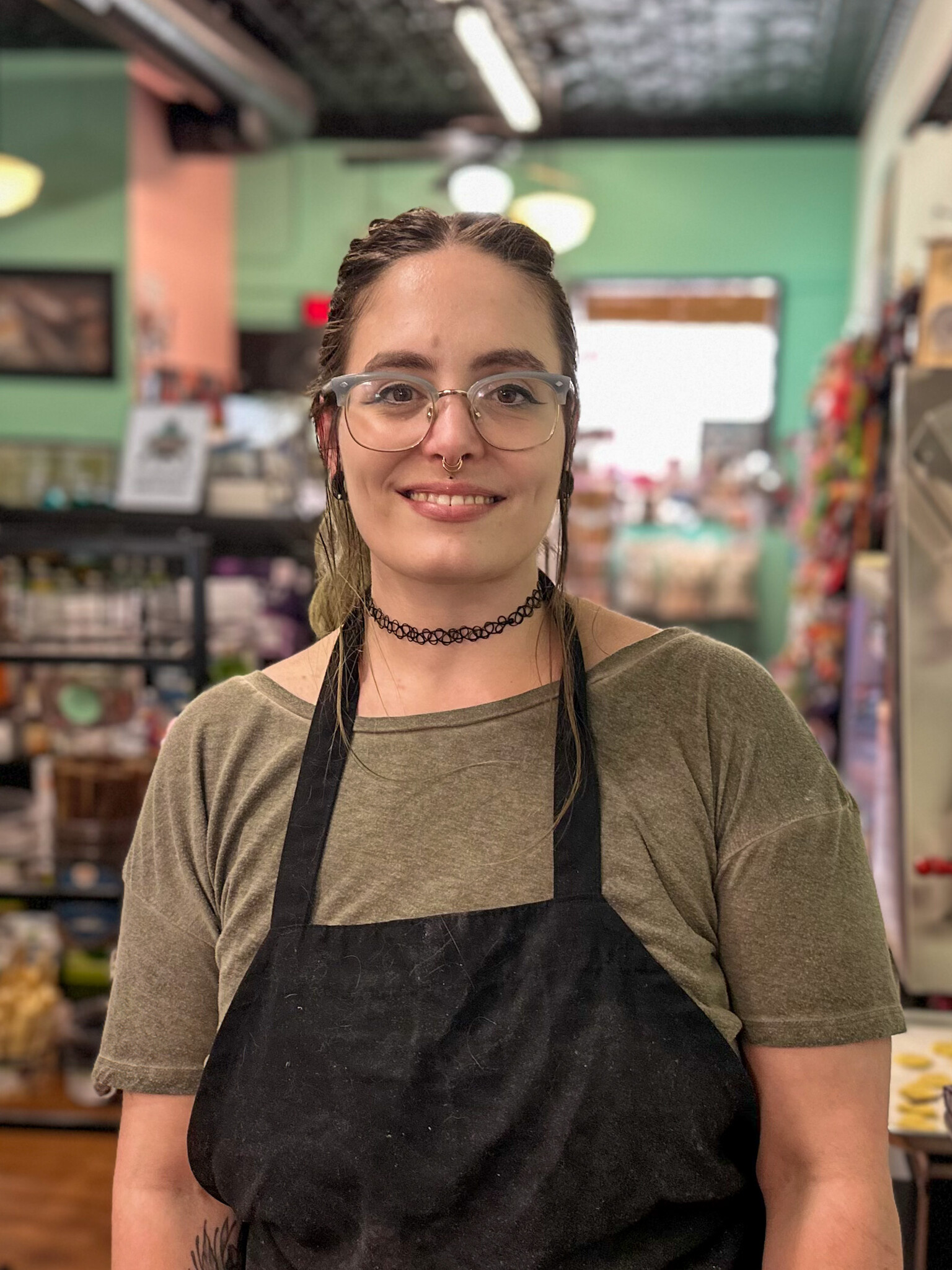 Haley:
I've been working at Lucky Dog for a little over 2 years now! I am one of the bakers, responsible for making and decorating our cakes and cookies! I have a 7 year old tabby cat named Mister and a German Short Hair and Heeler mix named Chuck. Outside of work I enjoy drawing, painting, & playing Dungeons & Dragons.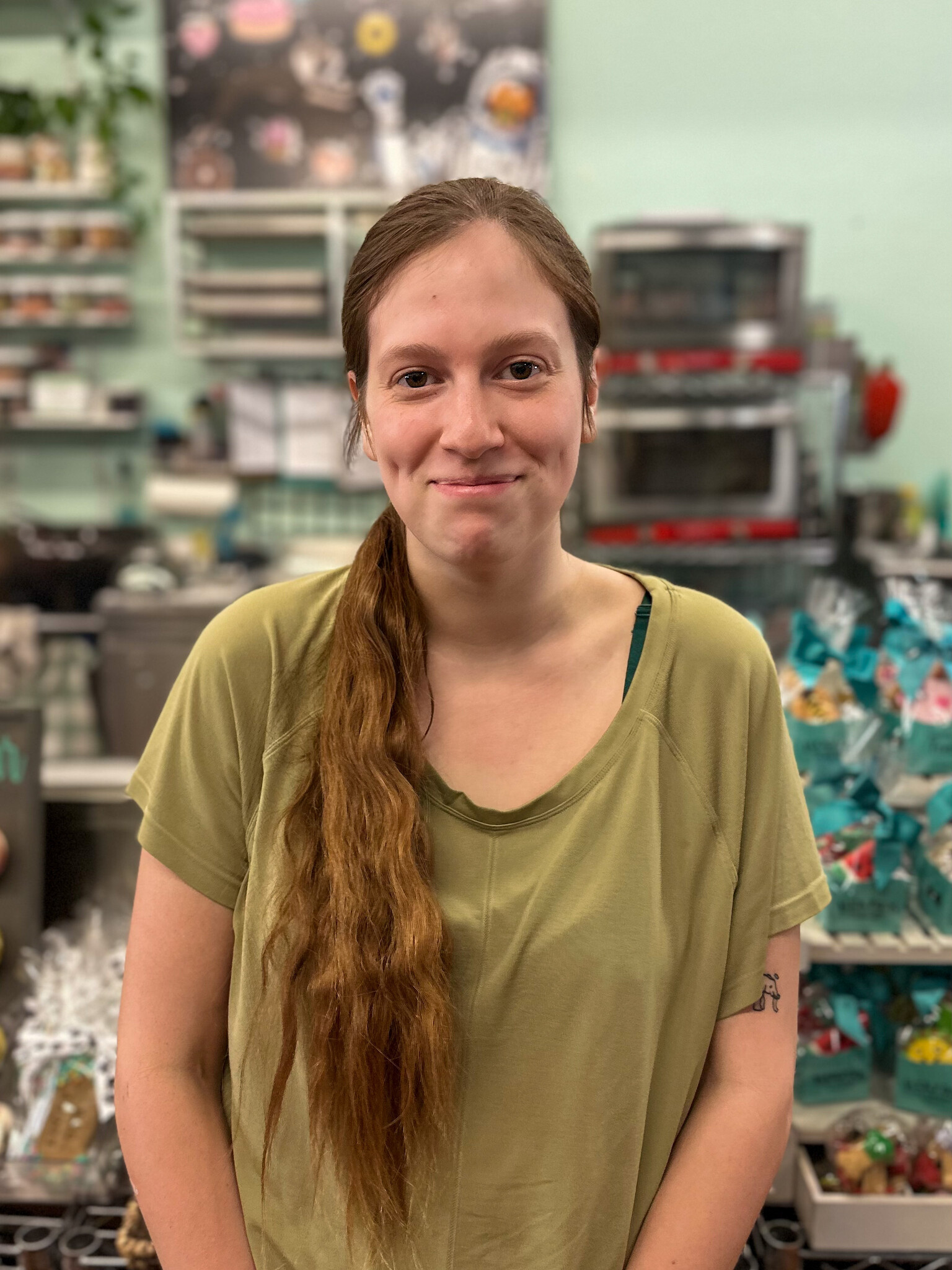 Kaylie:
I've been working at Lucky Dog for a few months. I work in the bakery. I wanted to work here because I love animals and I have two cats of my own. I really enjoy it here so far. It feels like I learn something new every day. My coworkers and the customers make it a lovely work environment to work in. Seeing people bring in their pets in for a visit is always a big plus!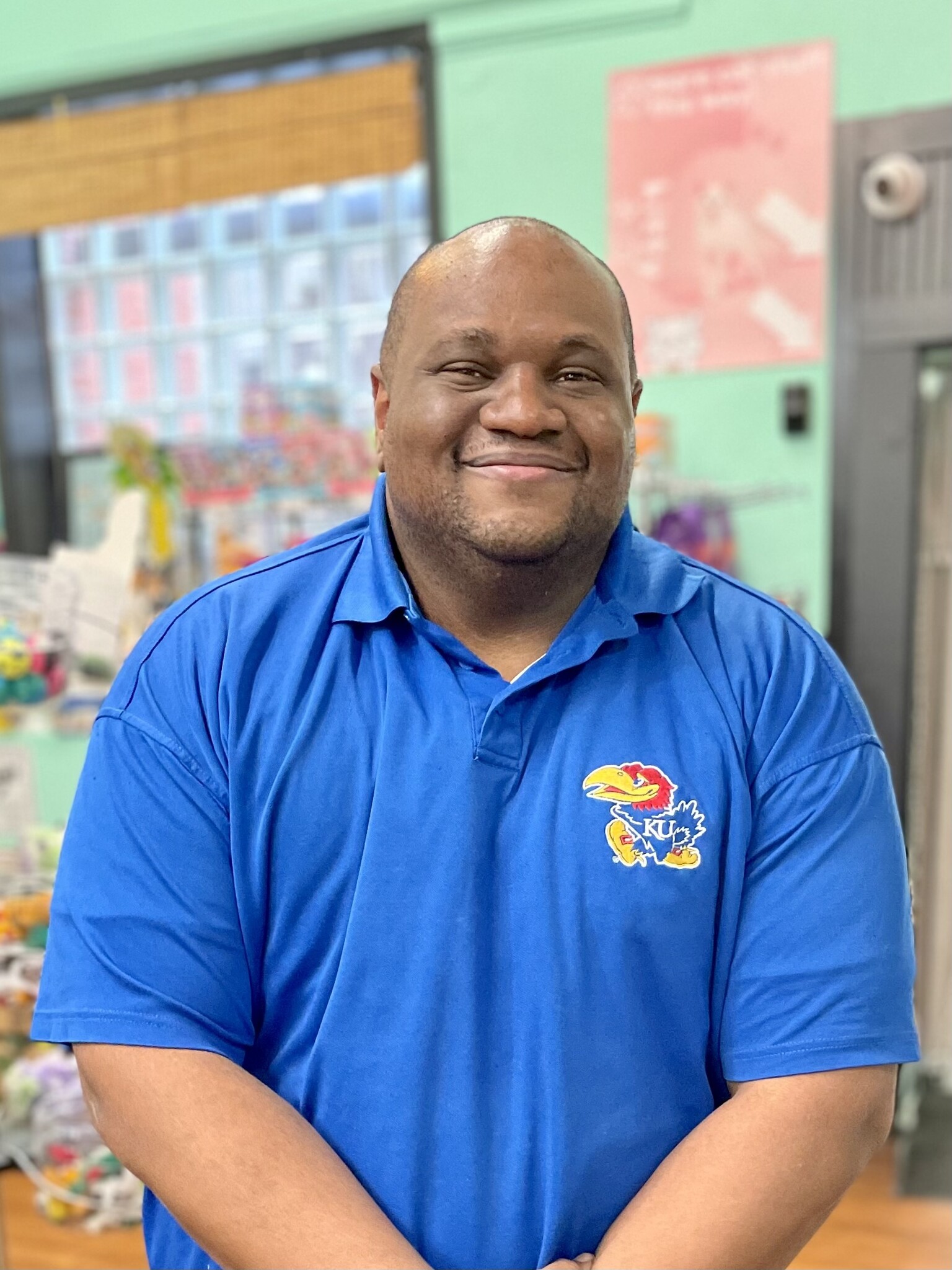 Stephen:
I started working at Lucky Dog this Spring. My favorite part is interacting with our customers and meeting their pets. I have a ½ Malamute, ½ Labrador named Dakota at home who has brown eyes. I love to greet every customer with a big hello and a big smile.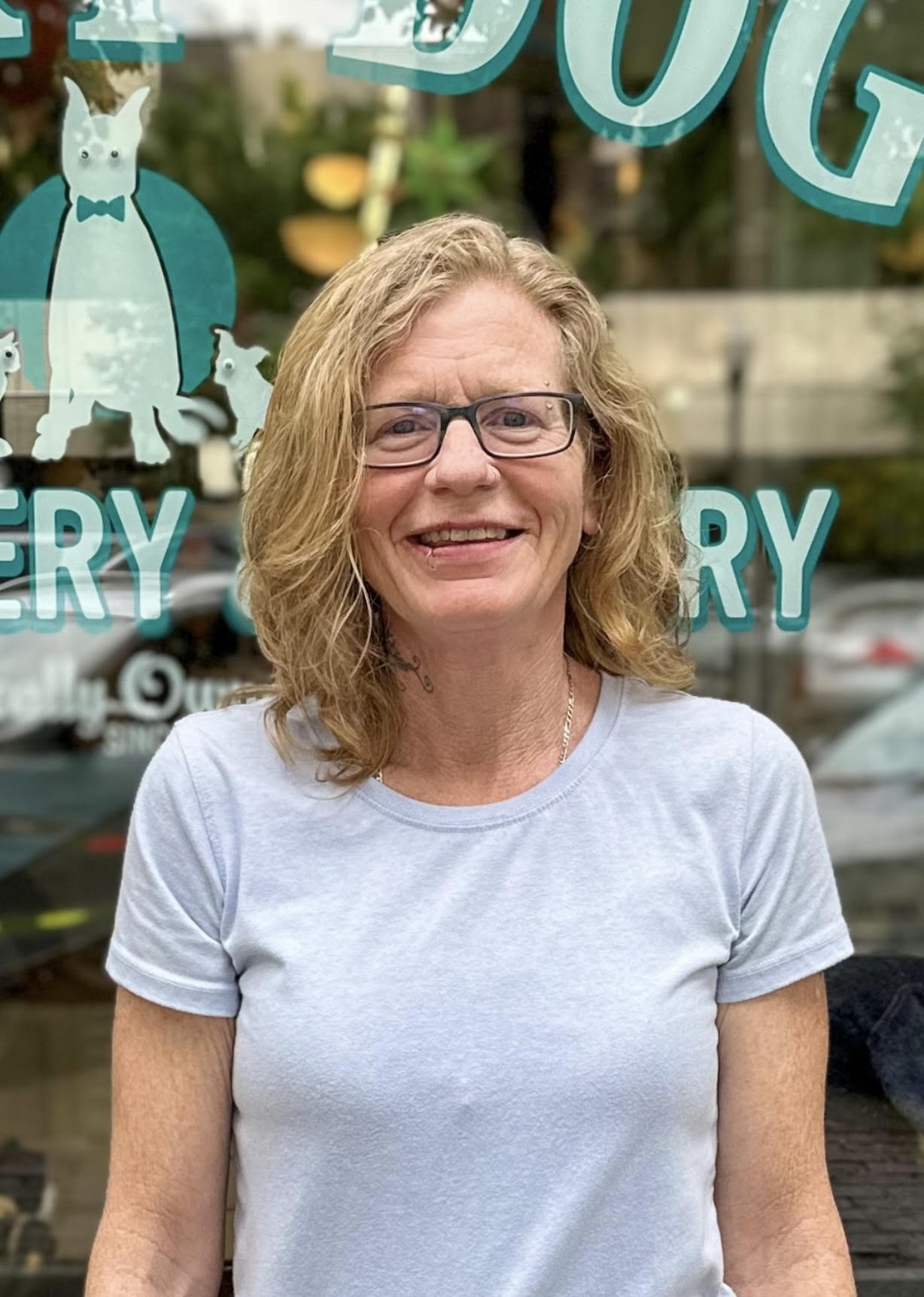 Carolyn:
After being a long-time customer, I got the opportunity to begin working at Lucky Dog in January 2023. I am a certified pet food nutrition specialist and enjoy dog training. My dog Magnus is training in nose work currently.